Preparation and planning started earlier in the year when Alf Draper suggested he was putting a trip to Oban and I should certainly consider the opportunity if the arrangements come together. Once this was confirmed, Michelle, Xander and I booked on this trip. We were joined by Gerry, Mike Court and Alf. Tuesday before the grand depart we carried out boat Maintenance, changing bearings, spark plugs, checking everything that we needed was in the boat, tested. Many thanks to the team who turned out to help us.
Thursday Morning early start I arrived at the fire station around 07:50 and the ever-helping Wilt had already uncovered the boat in preparation for her journey north.
I decided to take my Long wheelbase Transit which allowed everyone to store kit, cylinders and hang dry suits, BCDs and coats which proved to simplify the whole travel experience.
Once everyone had arrived and everything was checked over we set off around 09:00 and headed OBAN. We planned to stop at Lockerbie Truck stop for a full English… (I wonder what a full Scottish consist of?) the Full English was served with Haggis or Black pudding. £6.50 with a coffee – Good value considering this is still a motorway service.
Once the team had been fed, Watered and visited the toilets off we set again with another planned stop at the green welly. Time for a quick brew…. Errrrr no… This place did Awesome Jam and Cream Scones… except for Xander who had Jacket potato, cheese and beans… on top of his full English earlier in the day… That boy can eat… however, we all paid the price later that day….
Off we set to finish the final hour or so of the trip down some pretty tight roads past Loch Lomond. This lock is breath-taking, the scenery is vast… Many of us venture abroad for holidays and trips when we have this natural beauty on our very own doorstep (well 5 plus hours away)
Now I was expecting Oban to be literally a few houses in the village by the Sound of Mull. We drive through the deserted countryside for an hour then boom…. Oban hits you and it's a proper busy place, I would go as far to say stunning with Ships coming and going 24/7.
We had to Drive through the Town of Oban to reach Gallanach (Puffin Divers). We arrived… We entered Puffin Divers shop to get our Keys to our Billet, now earlier in the day Gerry asked if we had read the reviews on Puffin divers? Apparently, the Owner can be a tad difficult and very straight talking. So, to say the least, I was expecting a difficult reception. However, to my surprise, the guy was pleasant and very helpful. Online reviews can be helpful but also misleading.
We were given keys to the Billet and keys to our very own Kit room. Good job we brought our equipment officer… (MC) 😊 the kit room was big enough to cope the amount of kit we brought with us… (Just about) Thankfully Mike had some cable ties that we could tie over the higher rails which we used to put our hangers on, allowing the dry suits to hang and dry.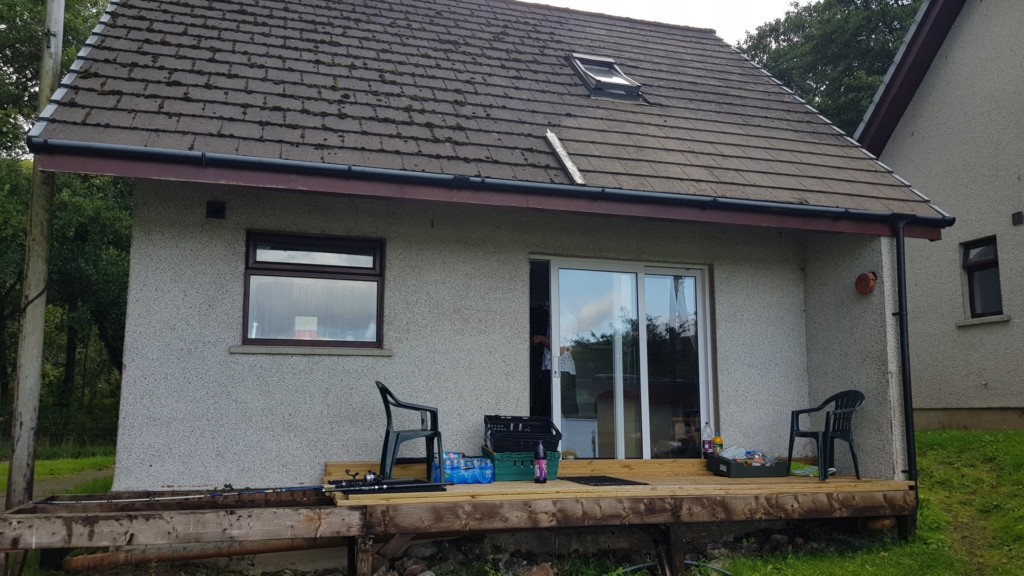 Right outside our Billet was the Slip, everything was within perfect reach. Dive shop next door, Self-serving Air fills (Does that make me a qualified Cylinder filler upper?) £5.00 a fill but hey when you have a small corner of the world to yourself you can get away with that price… not to mention the convenience.
We sent the gang into Oban town to Tescos to get some shopping… Clearly, Alf and Gerry can't be trusted.
I hope that someone warned Oban about these clowns…
After a long day of travelling to the destination and unloading the kit including prepping the boat, it was time for tea… Michelle had made two huge Meat and Potato pies, red cabbage, onions the works. Awesome first night's tea and thoroughly enjoyed by all. Now I had my 15-year-old with me (Xander) and when you mix a full English breakfast and then some Jacket with Cheese and beans, later joined by Meat and Potato pie… the boy got gas…. Gerry was sharing a room with Xander… and boy did he stink….
The following day (Friday) everyone woke, breakfast and ready for the first day of diving. Sat at the breakfast table and Gerry says I woke in the early hours to flashing lights and something dangling from the top bunk… it turned out to be Xander's headphones and his Tablet. Gerry though the poltergeist had come for him… lol Gerry said I didn't know how to turn it off so I just put a towel over them… 😊
We loaded and launched the boat ready to dive the Breda. I buddy paired with Alf, and Mike buddy paired Gerry. We discussed the dive plan, the weather conditions and headed off to the dive site.
In the Billet was a book all about diving the wrecks in Oban and I had read all about the Breda the night before, I studied the transits and read all about her history.
The ship was built at the Nieuwe Waterweg Scheepsbouwmaatschappij ("New Waterway Shipbuilding Company") yard at Schiedam for the Koninklijke Nederlandsche Stoomboot Maatschappij ("Royal Netherlands Steamship Company"). Laid down on 16 December 1919, she was not launched until 2 July 1921 and finally completed on 10 December 1921. The 6,941 GRT ship was 122.69 metres (402 ft 6 in) long, and 17.78 metres (58 ft 4 in) wide, and was powered by two Metropolitan-Vickers steam turbine engines, giving her a top speed of 15 knots (28 km/h; 17 mph). She had five cargo holds, and could also accommodate up to 87 passengers.
After the invasion of the Netherlands in May 1940, the Breda fled to Britain, where she was placed under the control of the P&O Line, and armed with a single 4.7-inch (120 mm) gun.
On 23 December 1940, she was laying off Oban, part of a convoy being assembled that was bound for Bombay. She carried a mixed general cargo that included 3,000 tons of cement, 175 tons of tobacco and cigarettes, three Hawker and 30 de Havilland Tiger Moth biplanes, Army lorries, NAAFI crockery, copper ingots, rubber-soled sandals, banknote paper, 10 horses and nine dogs.
At dusk, a group of Heinkel He 111 bombers flying from Stavanger, Norway, swept across the anchorage, and straddled the Breda with four 250-kilogram (550 lb) bombs. The force of the explosions ruptured a water inlet pipe, and the engine room was rapidly flooded, depriving the ship of power. She was quickly taken under tow and beached in shallow water in Ardmucknish Bay. The next day, only a small part of her cargo had been offloaded before a storm swept her into deeper water where she sank to a mean depth of 26 metres (85 ft) at position 56°28′32″N 5°25′04″W The ship has since become a popular dive site, marked by buoys.
Me and Alf buddy paired and dived the Breda first, I was super excited as I had already seen the huge plans and storyboard all about the Breda at Puffin Divers. We dropped in and ventured down the shot line. Almost immediately we were at the Bow of the ship… I was stunned as this was a real proper shipwreck, upright in the water, it actually resembled a ship.
We dived the circumference of the ship, dropping down to 25m at the stern (one of my depth progression dives) and Alf had pre-warned me about the damage on the Port side of the wreck, if you followed the rails it took you out into Open water, at this point we came back across the deck to the starboard side. Before we dropped in Alf said that this ship had some great swim throughs. He advised that I should take a look, and if I can see clear water on the other side and I was comfortable then I could try it, but do not fin, just pull yourself through.
At the first swim through I wasn't too sure, but as I dropped down and took a look… I decided that I wanted to do the swim through, I saw no immediate danger and I was more than comfortable.
We came out in Hold 1, then another swim through into hold 2. Spectacular. Alf had also prewarned me about the bent and twisted metals in the engine room which we would not be entering, so we went back to the deck and dropped in on the other side. On our way back to the bow you can drop in one of the Holds and there's a wall of concrete (literal bags of concrete), Truck chassis and numerous cargos. We headed back to the Bow and made our way back up the shot line to be greeted by Mike and Gerry.
The Pollacks on this shipwreck where huge, Even Alf said they were massive…. So, I have proof…
I was really impressed with the Breda, this was my first ever upright real recognisable shipwreck.
I loved it.
Gerry and Mike dropped in and carried out a similar dive, this was new dive site for Mike, although Gerry had been previously.
Visibility: 12m
Max depth Water temp: 14.0 c
My Max Depth: 25m
Eilean mor (FAULT LINES / LITTLE CRACK) Date of Dive: 23rd August 2018
Alf wanted to take us to a dive site he did some years back called Eilean Mor, He described this as a crack in the ground, Fault lines bursting with life. After a dinner break from our first dive, we had a short window to drop in at Eilean mor. All four of us (Alf, Myself, Mike and Gerry) all dropped into a depth of 17m. We swam through the kelp; the visibility was spectacular at double figures yet again.
I was experimenting with my weight as I changed from a 12l to a 15l cylinder but found myself a bit too light… Alf nicked a kilo off Gerry's who had plenty to spare to sort me out… We reached our prime sight and I must say I have never seen aquatic life like it… The ground was literally alive and moving right in front of my eyes. Hermit crabs, Langoustines, crabs, starfish. this place was very much alive. We found the huge crack in the rock bed and signs of a few large crab's dead indicated a predator was around. oh boy, this lobster was massive… its claws were like Mike Courts Thighs…
A little further on Alf had pointed out a pretty big Conga eel. The entire reef was alive and was an absolute delight to see. If you Visit Oban you must drop in on this site, I don't think it's very well known as Alf was shown this site years ago. Alf said that the site was not as alive as when he dived it years ago, god only knows how spectacular that would have been. I was very impressed…
Visibility: 12m
Max depth Water temp: 14.0 c
My Max Depth: 17m
It was time for tea…. Spaghetti Bolognese… just as we were about to sit down and serve tea there were some people on a RIB waving at us… That Dave Ash could smell food from 100 nautical miles away. Fancy seeing you here Dave Ash and John Hughes… 😊 to be fair they had already eaten even though we had plenty left…
Wreck – SS Thesis. Date of Dive: 24th August 2018
Today was mine and Michelle's 15th wedding anniversary and I was going diving… permission was granted 😊 the night before Alf said we would be diving the wreck of the Thesis… I had read about the Thesis the night before (Plan the dive, dive the plan). I checked out the book to understand the Transits which proved useful the day before. The Transits this time differed from two building on land to using two islands as land points. Although the Thesis was clearly buoyed.
SS Thesis was a steamship which was wrecked in October 1889 in the Sound of Mull, on Scotland's west coast. She is now a popular dive site with scuba divers.
The boiler and engine were mounted half above and half below the single main deck under wooden deckhouses. She had four holds — two either side of the central boiler and engine.
In October 1889, she set out on her final voyage from Middlesbrough to Belfast with a cargo of pig iron. On her trip down the west coast of Scotland under the command of Captain Wallace, she travelled down the Sound of Mull, the narrow dangerous strip of water between the Isle of Mull and the mainland. At the southern end of the sound, she ran onto a reef at Inninmore Point (Rubha an Ridire).
The captain and 10 crew abandoned ship and she sank around four hours later.
She now lies with her stern in 31 metres (102 feet) of water and her bow in about 14 metres (46 feet).
Gerry and Mike's turn to dive this wreck first… As part of my boat handling course, I was supervised by Alf taking the divers to the Buoy… 3,2,1 Boat's in neutral GO… divers dropped into the water. then I moved off the wreck to let the lads enjoy the dive, but keeping a watching eye on the bubbles.
Some 40 mins later the guys came back up on the shot line and I manoeuvred the boat to retrieve both divers. Once the guys were back onboard they appeared delighted with the wreck and Mike said the Pollacks were gigantic… Mike also said that once we had dived the wreck there's another line off the Bow which takes you to a surprise.
Credit where Credit is due, just as me and Alf where due to drop into the Thesis, The Gaelic Rose dive boat turned up with a number of divers, however, they backed off until Alf and I had finished our dive which I thought was extremely courteous of them. Thanks, Guys.
Alf and I dropped down the Shot line and yet again I was amazed to find a real upright ship. We started at the Bow at 16m and covered the decks dropping down to the stern. Another qualifying dive for me at 31m. As we started our return trip to the Bow via the starboard side Alf pointed out a Conga Eel… it was huge… it must have been as big as Mike Courts Head….
This was a wonderful wreck to dive, I also managed another great swim through then Alf said stop, just pause and relax…. I looked out into one of the holds… it was like being sat in a huge aquarium full of Fish of many sizes… Simply breath-taking.
We made our way back to the bow and found this lead rope from the bow heading portside, probably about 15m away from the bow. The surprise was a huge Anchor (far too big for our RIB Wilt) 😊 We made our way up the shot line and got back in the boat ready to de-kit…
Visibility: 10m
Max depth Water temp: 14.0 c
My Max Depth: 31m
Dinner time – Alf had been promising to take us Lochaline to try out the famous Bambi burgers.  
We drove the boat into Lochaline port, moored the boat and all jumped off… Lochaline Snack bar was at the top of the steps. what a little treasure trove this place is… I have never had a Bambi burger but I can verify them as delicious. that good, in fact, Mike Court had another…. So, I chose to have another… Alf opted for the fruit scone with Jam and Cream… Gerry being the more sophisticated chap just had one Burger and 2 cups of tea. After an hour of eating, drinking resting we decided to wave goodbye to the friendly locals of Lochaline and head back to Puffin divers. I drove the boat back the entire way against some challenging water but handling the throttle and trying to read the waves… Crossing into the wake of any huge ships and riding the smooth wakes left behind… which was a really great boat handling experience for me in a very busy boating area… We arrived back at Puffin divers all safe and sound, de-kitted the boat and put all kit in the kit room to dry out. What a thoroughly enjoyable day. I reached my 31m Depth progression and managed another boat handling session. The experience was excellent.
We were pre-warned about the potential poor weather on Sunday and the "Dave Ash app" (AKA XC Weather) said that Sunday was potentially a write-off.
Tea tonight was Steak Pie, Potatoes, Vegetables, and gravy… It was very good, wasn't it?… Two Pies Gerry… 😊
Michelle looked after us guys and the catering was awesome…
It was dark outside, all of a sudden, the headlights of a Taxi appear, Mike spots that it Dave Ash and John Hughes. quick "turn the lights off and close the curtains" pretending to have gone to bed… "shhh they are here" someone whispers… as we are silently giggling- Only Dave Ash would have a bloody big torch shining it through the window straight at Michelle… good fun and banter with Red wine, JD and beers. good night all around.
The next morning (Sunday) Xander and Mike Court did a shore dive to around 11m giving Xander some confidence to pick it back up, Xander also practised dropping in off the moored boat.
Later that morning Alf and Mike had a drive round to the Breda to see what the weather was like, however, it was decided due to the short window and that we had a table booked at the Seafood restaurant Eeusk for 19:45. We decided to do a local wall dive just round from Puffin divers. We dived this as a three (Me, Alf and Gerry) However as we approached at the dive site Alf moved quickly toward the front of the boat, "I'm sure something just popped its head out of the water" Alf said… Mike piped up "yes there's loads of bubbles on the sonar under the boat".. Alf Said "this beach behind us is where the Orcas trap the seals by swimming up on the beach to get them, perhaps it's an Orca" "That's it" I shout, as I'm pulling off my hood, my gloves are off, I'm just unclipping my BCD… Alf says " what you doing"… I say "F*****g Orcas…. I'm not getting in here" Alf and Mike both start rolling around laughing… Then it dawned on me… I'm a faster swimmer than Gerry and Alf. 😊
Apparently, there's no evidence of an Orca ever attacking a human in the wild… I believe that's because they leave no trace or evidence, they even eat the cylinder…
I enjoyed the wall dive but the aquatic life was sadly dying at this location. And after 30 mins we decided to head back to the boat. Alf was saddened by the state of this reef, last time he dived this location it was full of life and a huge contrast from the Eileen Mor site. None the less it was more experience for me.
Visibility: 6m
Max depth Water temp: 14.0 c
My Max Depth: 26m
We got back to Puffin divers, pulled the boat out of the water, washed her down, flushed her out and prepped her ready for travelling, Michelle and Xander had already put a lot of kit back in the van so all we had to do was wash our kit, hang it up to dry and get yourselves showered and dressed ready for the taxi to take us to Eeusk Restaurant.  However, we had one issue… was the toilet seat already broke or had someone broken it? 
We had a lovely meal and this was also new territory for Me and Xander who had never eaten in a Seafood restaurant before. So I decided to go for the Seafood platter… washed down with a Glaswegian beer called Mungo… lovely and highly recommended and the food was very good too.  After a lovely meal, we ventured back to the Taxi rank but it dawned on us that we had drunk the Billet dry of alcohol… So Mike and Gerry followed by Xander and I headed on the hunt for beers. Strangely enough, Xander knew the way to the Beer shop… lord only knows how??? Anyway, we entered the beer shop at 22:05 asking for some Red wine and beers. it was a strict no… the Scottish law is they stop serving at 10pm… ☹ 
It was suggested we give the shopkeeper the Exact change and he tills it up tomorrow… "Nice try Mike" 
Gerry says" let's try Weatherspoon's" …     It's just down here…  damn same rules applied here too… 
We decided to head to the taxi rank and grab that Taxi. Gerry piped up… "I feel like an alcoholic without a drink" LMAO… This guy has been Hilarious, someone you can laugh with and someone you can laugh at… what a lovely man… 
Thanks to the guys for an enjoyable weekend, Thanks to Mike for dropping in with Xander, appreciated buddy.
Big thanks to the organisers. Big thanks to Alf for buddying up with me on all my dives, the qualifying dives and Boat handling time too. Greatly appreciated. I thoroughly enjoyed the diving and highly recommend anyone who's not been to Oban… It's a must… Putting diving aside I would have come for the comedy alone… Gerry had us all in stitches with his stories of Benidorm, as did Dave Ash with his Chinese tourist.
What a blast with very funny people. Oban… see you again in the not too distant future.